Integrations
DigitalGuest is integrated into several different PMS, to ease the workload,
automate processes and save time!
We work together with the leading property management systems out there to provide the best guest experience for your hotel! The connection between DigitalGuest and your PMS helps you automate processes, eases the workload, and certainly saves your valuable time!
Ready to learn more about us?
See all our integrations
If you don't see your integration – don't worry, feel free to request it and we will make it work!
Connect the DigitalGuest platform to anything of your choice
You can easily connect and link restaurant, taxi, food delivery, attraction, bike rental and other booking systems to our platform – all in one place. Your guests will have access to everything they need during their stay. So take a look and get inspired by the examples below.
One-click
hotel check-in!
At Copenhagen Admiral Hotel they have connected DigitalGuest with their online check-in system to create a completely web-based and automated online check-in. So through DigitalGuest, they send automated pre-stay emails one day prior to arrival with a link to both online check-in and the customized DigitalGuest platform.
In this way, their guests can check-in and have all information regarding their stay even before they arrive. So guests can just focus on starting to look forward to their stay.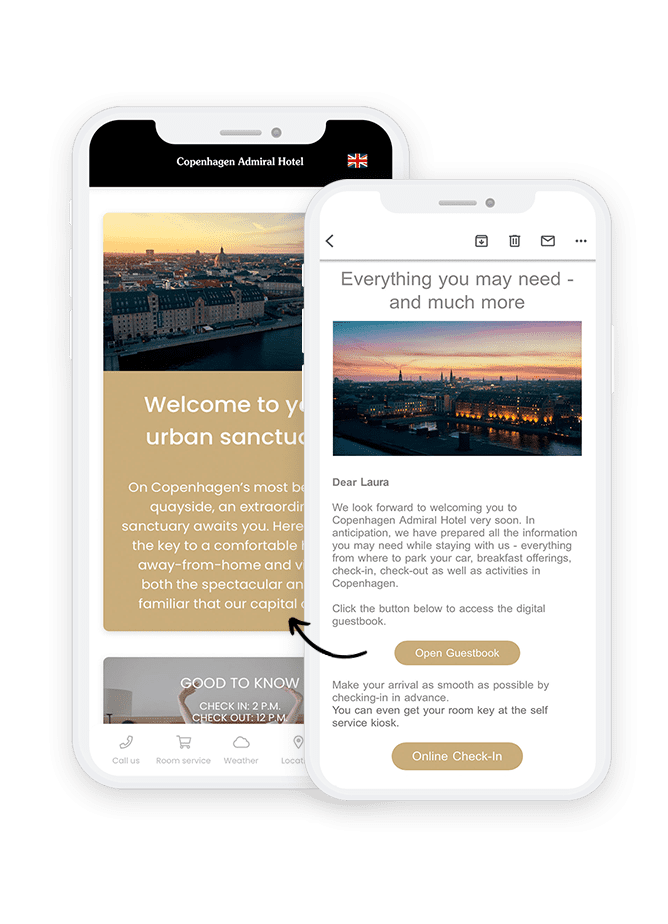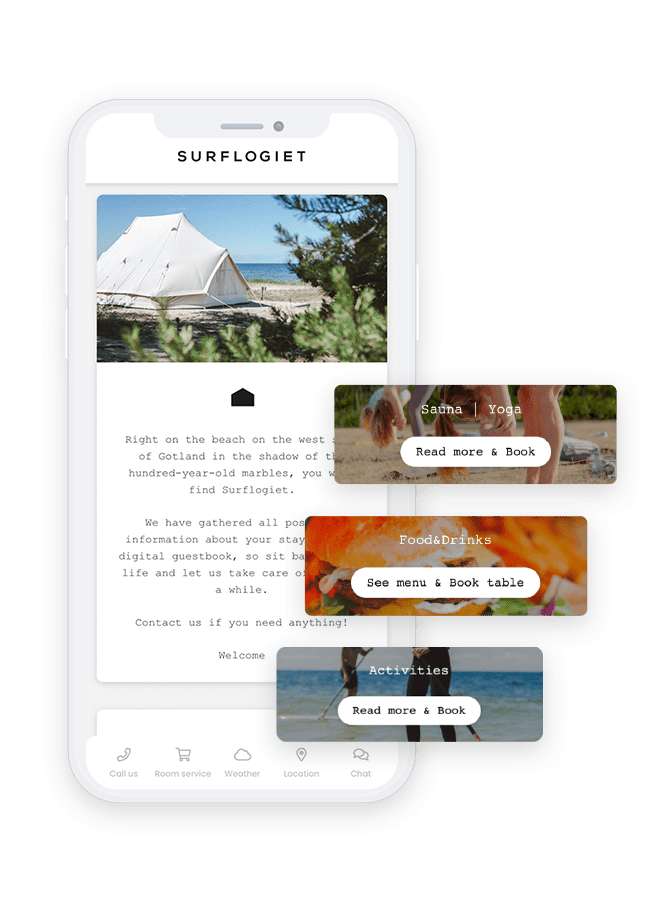 Book all the
activities in one place
On the west coast of Gotland, you can find the Swedish surfer paradise, Surflogiet. The perfect stay for surfing and relaxing with activities such as sauna, massage, paddleboard and much more. To handle bookings of tables in the restaurant and all the joyful activities, they use different software systems, which they have connected to their DigitalGuest platform. Simply just by placing the link from the software system behind the buttons.
In this way, the guest can find all the information and bookings in one place and have access to everything before and during their stay. This means they don't have to spend time looking around for information or dropping by the reception to make a reservation and have more time to enjoy the waves and surroundings!
A smooth
dinner booking
Do you want to save time in the reception and give your guest a comfortable and smooth experience?
At the brand new hotel Grand Joanne, they have integrated their dinner booking software to their DigitalGuest platform, by placing the DinnerBooking link in a box on their platform. So their guests can digitally book a table in the restaurant even before they arrive or do it in peace and quiet after settling in the hotel room.
The reception saves valuable time on receiving and handling table reservations. The guests can look forward to a delightful dinner without needing to call or meet up at reception.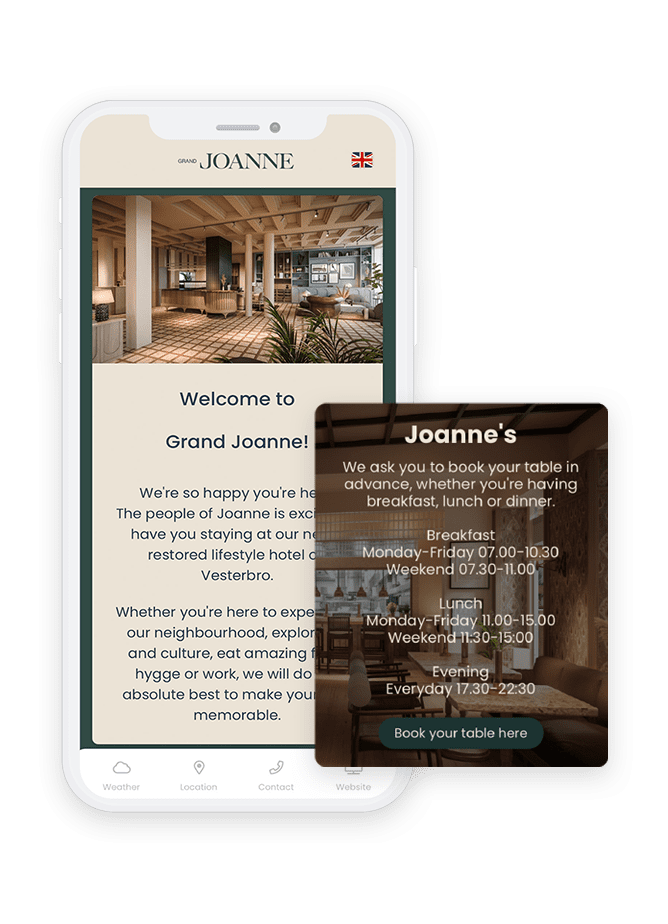 DigitalGuest open API
To make it possible to integrate almost everything and even use DigitalGuest in other industries we've made an open API. It means that you can simply build up against our API and easily integrate any PMS system or booking engine.
Smart huh?