Pricing
Replace your old guest directory with our modern, user-friendly & fully customizable digital guest communication & experience platform – choose between the three pricing plans and available add-ons to build the package you need and achieve the best value for your business
Replace your old guest directory with our modern, user-friendly & fully customizable digital guest communication & experience platform – choose between the three pricing plans and available add-ons to build the package you need and achieve the best value for your business
Choose the package that works for you
Get in touch with us for a customized price, if you're interested in a
package solution with every feature included.
Standard
€1
/unit/mth
starting at €30/ property
Give your guests easy access to your platform through customized QR codes. No integration needed.
Guest chat & in-room telephone
Unlimited users
Personal onboarding
Support materials
Premium
€2
/unit/mth
starting at €60/ property
Integrate your PMS to establish a fully automated communication flow. Includes everything in Standard, plus:
Automated guest communication:
pre-stay, in-stay, post-stay
Guest communication through email, SMS and QR codes
Manual in-house communication
Unit specific content
Customer success – support
Elite
€3
/unit/mth
starting at €90/ property
Create a 100% personalized and automated guest journey.
Includes everything in Premium, plus:
Segmented platform content
Segmented communication based on rate code and room type
Own contact person – support
Own contact person – support
Own contact person – support
Add-ons
Customize your package based on your hotel needs by adding some or all of our powerful features.
€1
/unit/mth
starting at €30/ property
€1
/unit/mth
starting at €30/ property
€1
/unit/mth
starting at €30/ property
€1
/unit/mth
starting at €30/ property
Not sure which pricing plan is right for you? Get in touch!
ROI customer case
At Hotell Mossbylund they're generating revenue by offering upgrades and the minibar menu digitally in the DigitalGuest platform. This way guests can treat themselves with Saturday candy, sparkling and snacks during the stay or buy a spa treatment before they arrive at the hotel.
In just three months they've generated €1215 in revenue with fruit, pralines and spa treatments being their most sold offers – which resulted in 329% ROI. Hotell Mossbylund makes sure to always have a sweet, enticing offer ready for guests, so they can maximize their revenue! Maybe you're ready to do the same?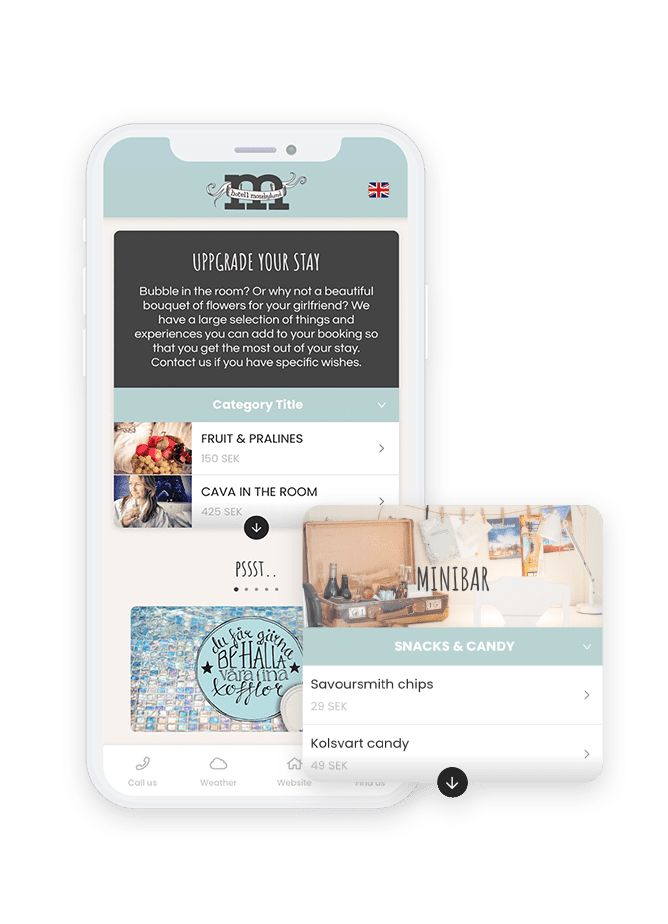 Frequently Asked Questions
What is a web app?

A web app is a software application that is accessed over the internet through a web browser. Unlike traditional desktop apps, web apps are designed to be used online, and they are usually much simpler and easier to use. There is no need to download an app on your mobile device.
Do I need technical experience to set up the platform?

Not at all. Our platform is user-friendly and requires no technical knowledge, so anyone can set it up easily. Our lovely CSM team has prepared help articles that will guide you through as well as they are making sure all our amazing customers are always taken care of in the very best way!
What is the time to get going – from sign to live?

It's up to you, some clients have the platform live within a week, some might take longer. It all depends on the time you put in.
What are potential costs from the PMS's?

From our side there is no integration cost. To find out about the costs you need to talk to your own PMS system.
Is this the right solution for you?

YES! If you are a hotel, hostel, vacation houses rental, camping site, or a conference center then DigitalGuest is a right solution for you. Our product is made for any hospitality provider to make sure the guests get the best possible experience during their stay.
Are you curious?
Get ready to become the amazing new client of DigitalGuest.