The best digital guest experience for holiday cottages, cabins and luxury villas
The industry of holiday cottages, cabins, and luxury villas is very similar to the hospitality industry and has huge potential when it comes to digitalization. Based on the knowledge we have from +500 hotels using DigitalGuest today, we've adjusted our platform to also fit this industry. First and foremost to help automize manual processes, get rid of prints and papers, and of course, create amazing digital experiences for all your guests.
One web app for all your guests. No download needed.
By using DigitalGuest you can create a digital and smooth guest journey for all your guests staying in your vacation houses. Everything from pre-stay emails to in-house communication and post-stay guest surveys.
We all know about the waiting game the guests are experiencing when renting holiday cottages, cabins, or luxury villas. Picking up the key, receiving information about heat, electricity, wayfinding, etc.
With DigitalGuest your guests can access all this information on their own smartphones before they arrive. And you can even distribute practical information such as key codes to the front door for the specific property. Let's dive into more details!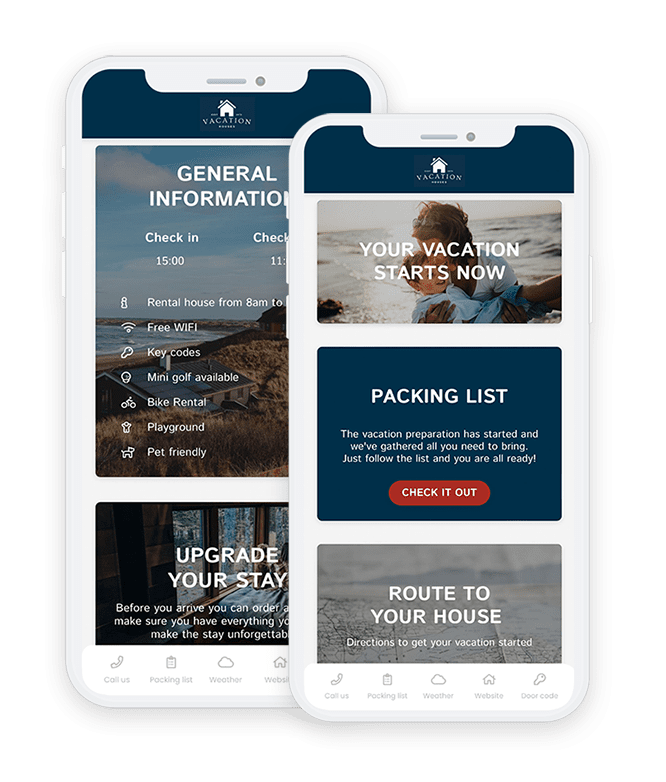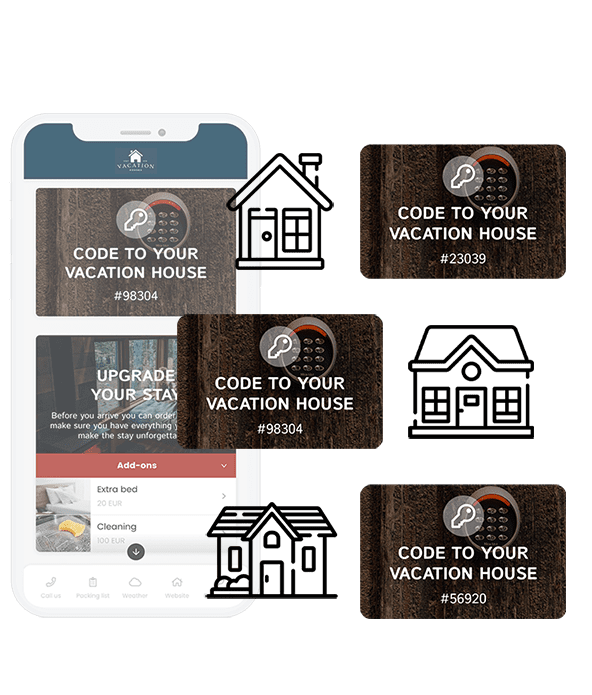 Unit specific content
Often each unique property has individual information which is very important for the guest. With our feature 'Unit Specific Content' you can create content on your DigitalGuest platform that contains specific information for each property – and distribute it automatically through email or SMS.
For example, if your vacation houses have different door codes – then Unit Specific Content is an easily accessible way to share the code!
With this feature, you can make sure to give the right content, to the right guest at the right time.
Also, a common way to use this feature is to distribute e.g. wi-fi codes, the address to the house, or other specific information related to that property. That will not only save you valuable time but also give your guests a smooth and professional experience when they are staying at your properties.
Scan the QR code and dive into our Vacation House platform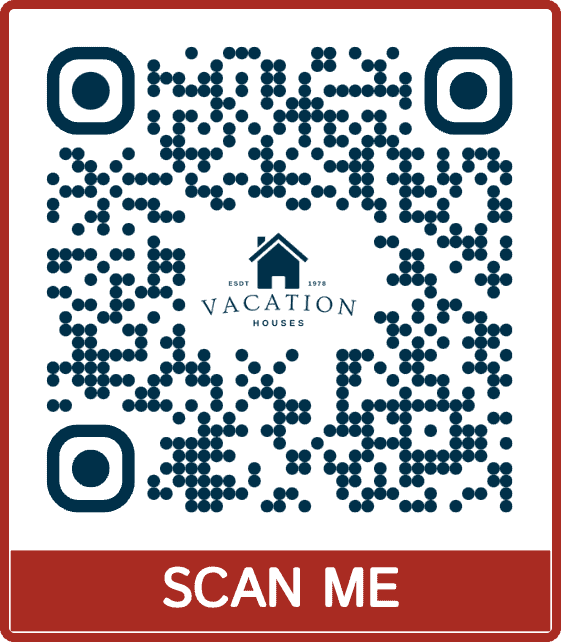 Keep your guests 100% well-informed
A well-informed guest is a happy guest. We know for sure there's always a lot of information combined with staying in holiday cottages, cabins, and luxury villas. With your DigitalGuest platform, you can make sure that your guests are well-informed both before, during, and after their stay.
Having all information gathered in one place makes it a lot easier for your guests to prepare for their stay. Or by sharing e.g. the packing list, route to the house, and all local attractions on the platform, encourages your guests to start planning the vacation even before the vacation has started. Cool, right?
In addition to this, the whole guest experience will be personal, customizable, and fully automated, because DigitalGuest is integrated into your property management system.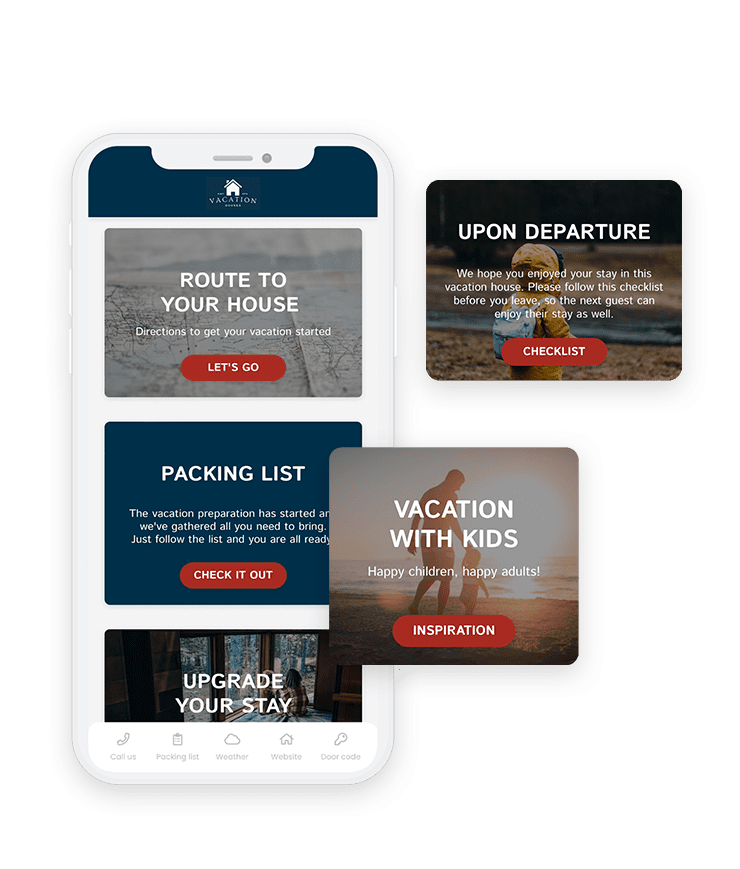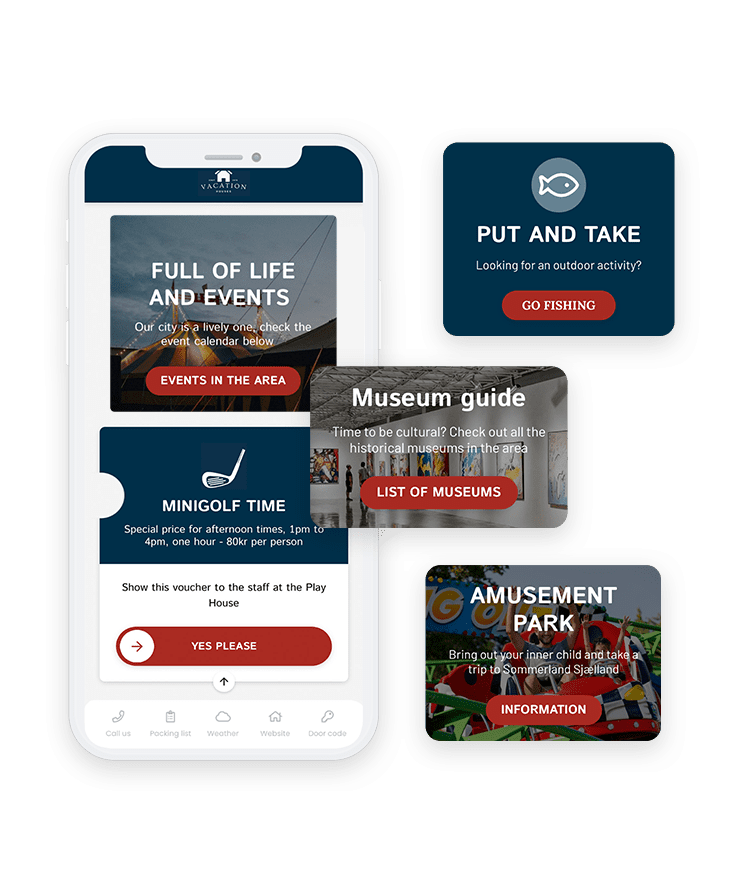 Bring the local attractions closer to your guest
It's time to get rid of all printed brochures and flyers. With a customized DigitalGuest platform your guests will have all information about local attractions in their hands before, during, and after their stay. You can even create digital vouchers, special offers and notify guests about local activities.
Give your guest an even better experience with the inspiration of what to do, while they are staying in that specific property/area. Maybe there's a concert or festival in the area you would like your guest to know about. Or other activities such as museums, a go-kart track, a shopping mall, put and take – lake nearby. The options are endless and you can easily create a platform containing everything relevant to your local area!
Are you ready to go digital?
Increase your revenue per guest by using Upselling
Every guest is different and so are their preferences. No matter what kind of property, there will always be opportunities for upselling to your guests.
Let your guests begin their stay even before arrival with a personalized pre-stay Upselling email. In this email, you can present enticing offers to your guests, for example, cleaning of the house, and an extra bed or bed linen package. Everything is wrapped in customized and beautiful-looking emails with the exact content you choose.
During their stay, you can present offers such as renting a bike, grill, or maybe a canoe? You simply set up your products on the DigitalGuest platform with descriptions, pictures, and pricing. So get ready to increase revenue and get more satisfied guests.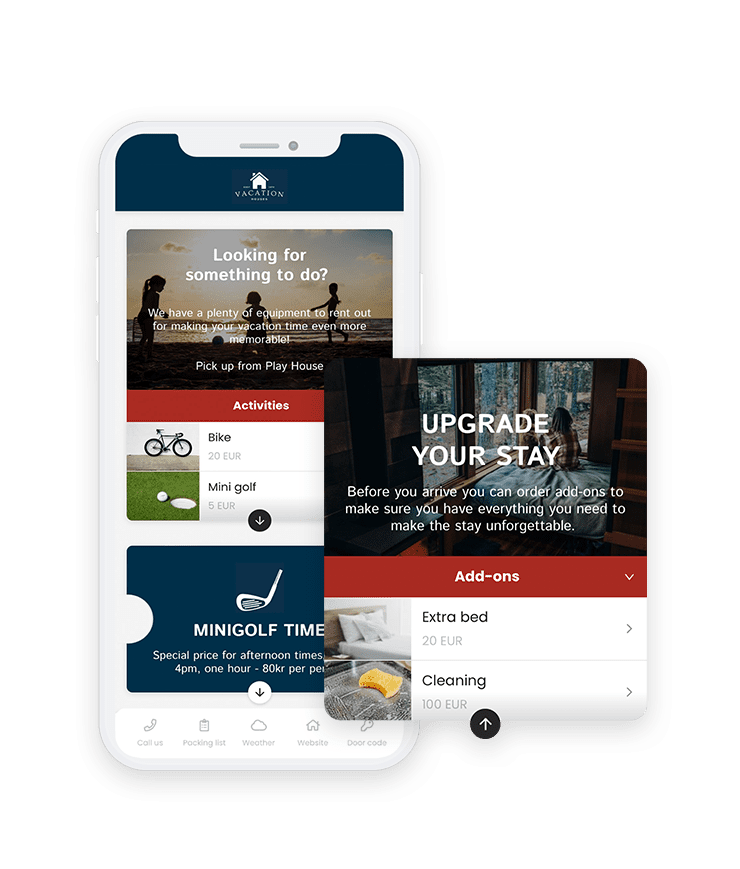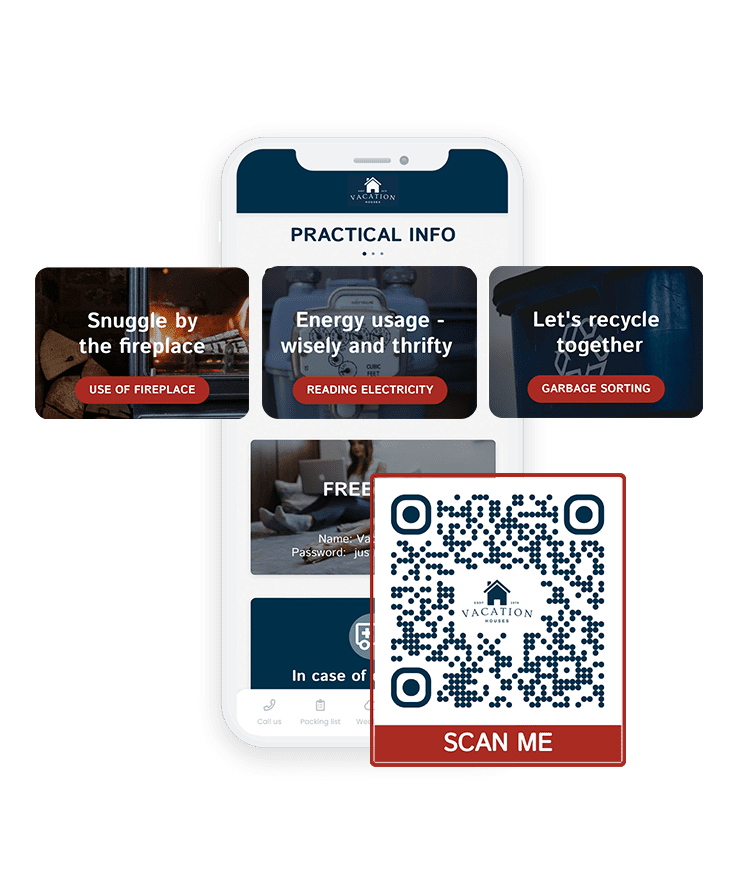 Get rid of printed guides and start using QR codes
We've all tried searching for instructions needed for our stay in worn-out printed books and flyers with outdated information.
With a DigitalGuest platform, everything is online, updated with a few clicks, and always easily accessible for your guests.
A Vacation House with a sauna, pool, or fireplace? Have all your how-to-use guides in one place and use a customized QR code to distribute them.
It's easy to customize and link your QR codes to whatever you prefer, E.g. PDF, website, or online guide on your platform. QR codes are generated automatically in the DigitalGuest platform which means you can always change the content behind it. The only thing you need to do is print and place the QR code once and then you just need to make sure the content always is up to date.
Wave goodbye to bunches of paper and say hello to updated and easily available online guides. Just place your QR codes by the pool, fireplace, sauna, or wherever it makes sense at your property.
Guest Reviews
Do you want to know if your guests are truly happy with their stay? With DigitalGuest you can save valuable time collecting data with our new Guest Reviews feature. All reviews are captured in one place – on your own DigitalGuest dashboard where you can see in-depth guest insights and a Net Promoter Score.
You can easily build customized surveys and let your guests give you feedback with star ratings and comments on different stages of the guest journey. You don't even have to worry about sending out these surveys, because our integration into your property management system, will make sure they are automatically sent by departure. But if you insist, we have made the possibility to also send surveys manually.
And by knowing your NPS you can make the necessary changes to improve your facilities & services to ensure your guests keep coming back.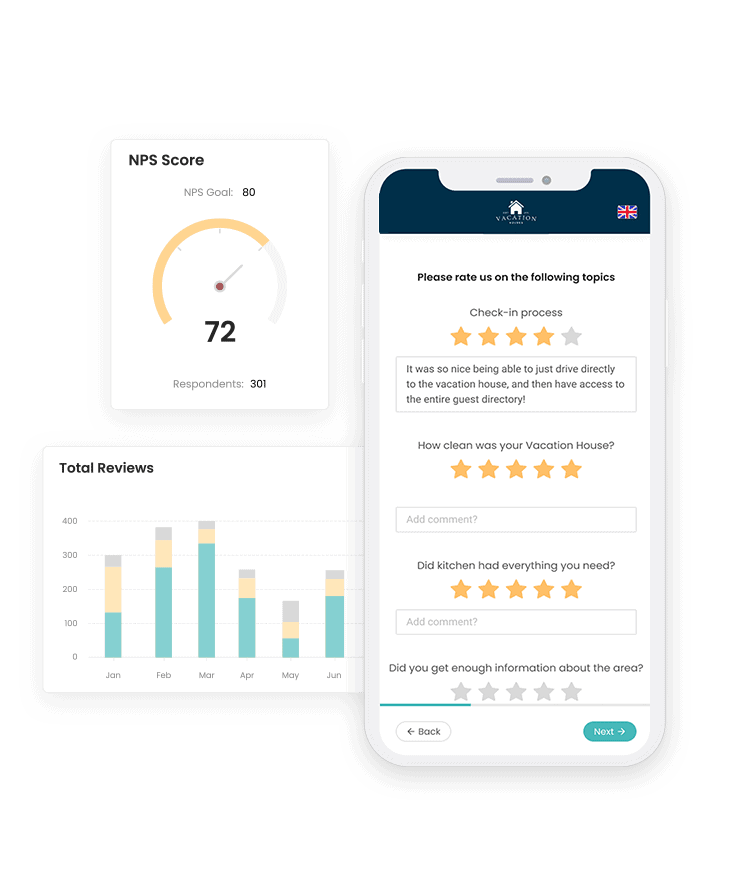 A customer managing 800 cottages is saving up to 30.000 EUR per year by replacing printed material with a DigitalGuest platform
Are you curious?
Get ready to become the amazing new client of DigitalGuest.