In this blog post, we will address a common question that our potential customers often ask:
How long time does it really take to set up the DigitalGuest platform?

We know that when it comes to implementing any new system, time is a precious commodity, and it's natural to be concerned about how much of it will be occupied. After all, none of us are sitting around twiddling our thumbs, right? We're all busy with plenty of work to be done. So, we want to take this opportunity to provide you with a picture of what to expect when setting up DigitalGuest for your property. From the moment you sign the contract to the moment the platform goes live.
Timeline for setting up your platform
Very common feedback about the platform is the user-friendliness and that absolutely anyone can use it – no technical experience is necessary! That's precisely what we had in mind when we created the platform. We want it to be accessible to everyone!

Now, when it comes to getting started, you might be surprised to learn that it doesn't take as long as you might think. In fact, it's not so much about the actual process of setting up as it is about making decisions.
Onboarding meeting – 30 to 60 minutes
Once that contract is all signed and sealed, the next step is to have your profile created. And to have an onboarding meeting with our lovely Customer Success team. Within the same working day, you'll receive a welcome email with instructions on how to create your profile and how to book an online onboarding meeting with our team. It takes 5 minutes to create your profile and booking a meeting with us is super smooth – you decide when it best fits your calendar.
The onboarding meeting takes 30-60 minutes, and we'll go through everything you need to set up the DigitalGuest platform, of course, based on the needs, requirements, and wishes from your side. Our Customer Success team will give you a grand tour of the platform and show you where to find all the great stuff, like helpful articles, inspiration, and how to get in touch with us within the setup process.
Now, if you're wondering who should join this meeting, it's those who are directly involved in making decisions and also being hands on how DigitalGuest should look and function. Usually, it's people from the front desk, sales, marketing, or SoMe. The more the merrier!
Ready to maximize your revenue?
Getting PMS credentials – minimum 30 minutes
Now it's in the hands of the hotel's PMS to provide us with the necessary credentials to connect our systems together. Some PMS systems like Mews, Apaleo, and Spectra are lightning-fast and can have those credentials ready for us in as little as 5 minutes. However, some might take longer and it's depending on the PMS provider. Our Customer Success team will guide you through this step and will also keep in contact with the PMS provider. You can keep working on the platform while waiting for the integration.
Creating the platform
Let's get to the fun part! Now it's entirely up to you to design a platform that's tailored to your preferences. The timeline for this may vary depending on a number of factors unique to each property. But, if you've got a solid plan and a clear idea of what you want on your platform, you could even go live with it within a day or a week! Typically, though, most properties take a month or less to go live.
Congrats. You can push the LIVE button!
When a platform is set up and the communication flow is also in place, you are ready to press the GO LIVE button! Our Customer Success team will be notified automatically and will jump on to see that everything looks great and inspect that all parts of it are working.
1 month after the platform has gone LIVE
Once your platform has been up and running for a good month, we have our Customer Success team go in and take a good look at all the statistics and boxes to see how it's all going. We make sure everything's rolling smoothly and steadily.
We can even mention a recent success story. Huskvarna Stadshotell had an onboarding meeting on Monday and on Friday they went live! Isn't that fantastic?

During the whole process, our amazing Customer Success Team is there to help you. Both with advice and inspiration to get the most out of your DigitalGuest platform.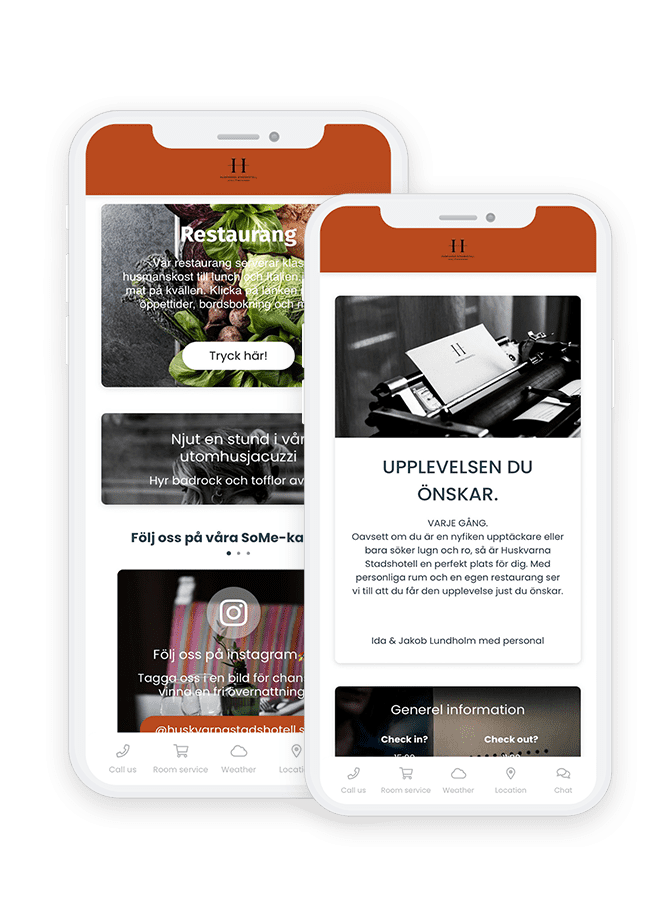 The main takeaway from this post is that implementing DigitalGuest is so much easier than implementing a new PMS. Or any other larger system found on your property. DigitalGuest is absolutely powerful and incredibly easy to use, so you can have it up and running for your property in no time. And the best part? Once you have it all set up DigitalGuest platform won't take up any of your precious time on a day-to-day basis. It'll simply run in the background, automatically tending to your guests' requests. And when they do request something, that's when you and your staff can really shine and provide that human touch. It makes all the difference in the guest experience.