What is the Average Daily Rate?
If you manage a hotel, you're probably always looking for ways to increase your Average Daily Rate (ADR). But what is ADR? Simply put, it's the average amount of money that guests spend per night at your hotel. ADR is a quick and effective method of measuring your hotel's performance. But to increase your ADR, you need to find ways to convince guests to spend more money per night. And there are a few effective ways!
How to calculate ADR in a hotel?
ADR is calculated by dividing room revenue by rooms sold. The metric is of course applicable for any currency or time period. For example, if your hotel sells 80 rooms for 10,000 EUR then, your ADR formula looks like this:
ADR= 10,000 / 80 = 125 EUR
ADR = Room Revenue/Rooms Sold
Ready to maximize your revenue?
How to increase your hotel's ADR by using DigitalGuest?
It's possible to increase your ADR, but of course, it takes some investment from your side. For example, it could be by improving your facilities, services, and position in social media. But maybe a more simple way would be to start to use upselling throughout the whole guest journey. This can be achieved by using a digital platform like DigitalGuest. Not only you will be able to gain more revenue using upselling to each individual guest, but it will significantly improve the guest experience. And all can be done just by using your guest's own smartphone.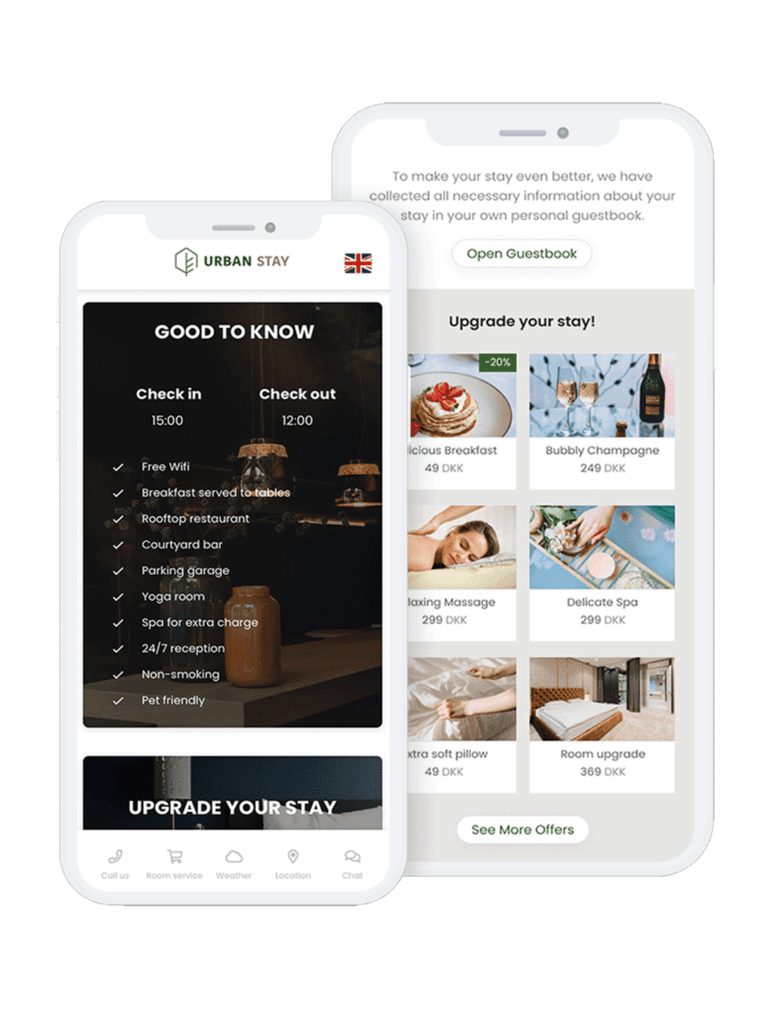 Some tips on how to increase your hotel ADR with DigitalGuest:
Offer early check-in – Nothing is worse than checking into your hotel only to find out that your room isn't ready yet. Offer early check-in to entice guests who are arriving in the afternoon or early evening, and they're more likely to spend more per night because they'll be able to get settled right away.


Offer room upgrades – Room upgrades are a great way to boost your ADR. If a guest has booked a room with a street view, then you can simply offer upgrade options to a room with a sea view or any other room, that has better amenities.


Offer a breakfast buffet – By using our segmentation feature, it's possible to offer breakfast options only to those guests who booked their stay without breakfast. Since people usually tend to eat breakfast then offering this option for an additional fee most likely will result in more breakfast bookings.


Offer discounted rates for long stays or multiple nights so that guests can save money by staying with you for an extended period of time.


Offer a loyalty program that gives guests points towards future stays, discounts on additional nights, or gift cards when they reach a certain number of stay credits.


And don't forget to personalize wherever possible. By personalizing your service you'll build a stronger relationship with guests. Resulting in returning guests and positive online reviews.


These are just a few ways you can increase your ADR. Now it's time to put them into action!
If you are ready to increase your hotel's average daily rate, then Book a Demo with us and we will help you get there!