Are you looking for ways to boost your hotel's revenue? DigitalGuest, the digital guest experience platform for the hospitality industry, has a new and powerful Room Upgrades feature that allows you to offer room upgrades to every single guest automatically. With this innovative solution, you can enhance your guests' experience and increase your upselling revenue effortlessly.
What is a Room Upgrade?
Before we dive into the details of the Room Upgrades feature, let's first understand what a room upgrade includes. A hotel room upgrade is essentially a change from a basic or standard room to a room or suite with better amenities or qualities. It provides guests with an opportunity to enjoy a more luxurious and comfortable stay, elevating their overall experience.
At DigitalGuest, our goal is to simplify the process and make it seamless for both hoteliers and guests.
Simplify and Automate Room Upgrades
Gone are the days of manual upselling and the need for constant staff intervention. With our Room Upgrades feature, you can eliminate the laborious task of manually upselling rooms and focus more on how to effectively communicate these offers to your guests.
Setting up room upgrades on the DigitalGuest platform is a breeze. You can easily define different room types, specify prices, and enhance the offers with enticing images and creative descriptions.
Once you've set up your room upgrades, you can seamlessly integrate them into your pre-stay email or SMS communication. This way, your guests have the freedom to explore the offers at their own convenience and book room upgrades that suit their preferences and budget.
Ready to maximize your revenue?
Crafting Irresistible Room Upgrade Offers
While the automation aspect of the Room Upgrades feature is incredibly powerful, it's important to remember that the offers themselves need to be convincing and enticing. Here are a few tips to create irresistible room upgrade offers that your guests won't be able to resist:
1. Spell out the value:
Clearly communicate the value that the upgrade provides. Highlight the enhanced amenities, additional space, or exclusive features that come with the upgraded room.
2. Take your guests on a journey:
Craft a creative description that takes your guests on a virtual journey, making them excited about the enhanced experience they'll enjoy. Paint a vivid picture of the upgraded room and the unique benefits it offers.
3. Highlight key details:
Make sure to mention all the advantages of the upgraded room. Whether it's a breathtaking view, a private balcony, or access to exclusive facilities, highlight these key details to entice your guests.
4. Enchanting images:
Images play a crucial role in capturing your guests' attention. Include at least 4 to 5 high-quality images that showcase the upgraded room's beauty, elegance, and comfort. Let the images speak for themselves and create a desire to experience it firsthand.
Remember, the aim is to create a compelling offer that guests can't refuse. DigitalGuest's platform allows you to customize each room upgrade offer with precision and creativity, ensuring that your guests are enticed to upgrade their rooms.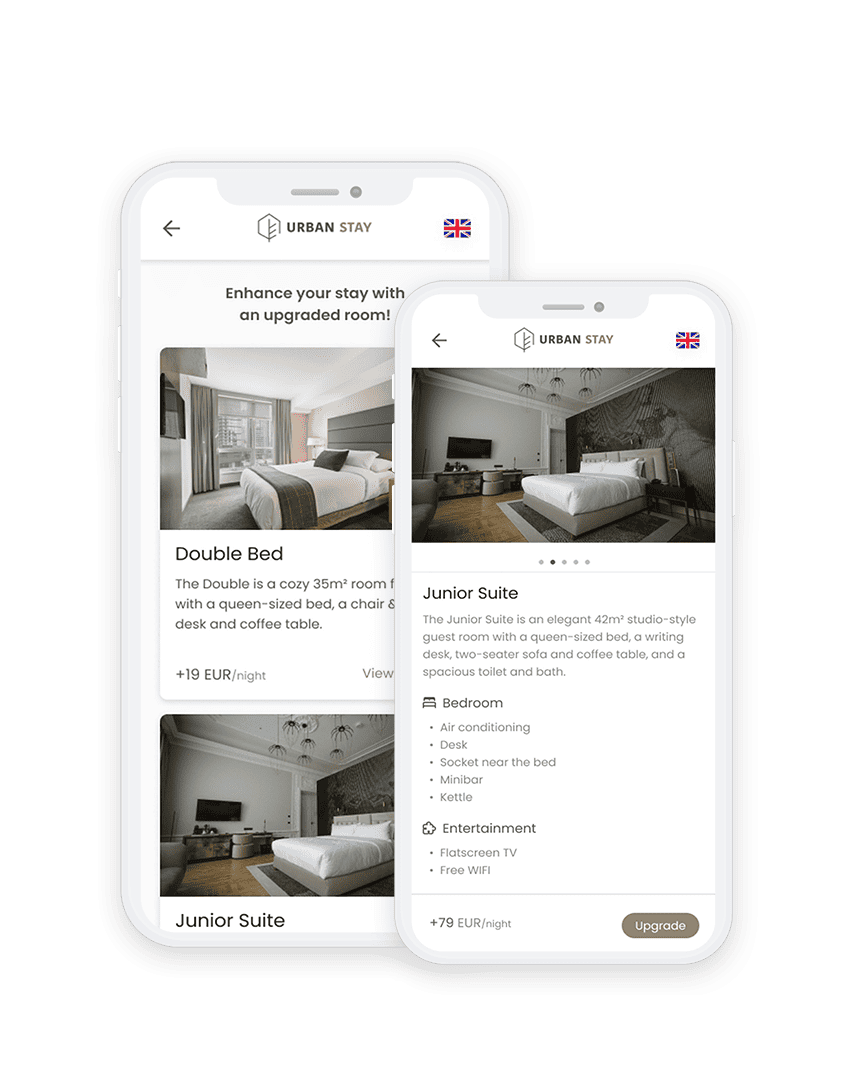 Boost Revenue and Save Time with DigitalGuest
DigitalGuest's Room Upgrades feature is designed to save your staff valuable time and streamline the upselling process. By automating the room upgrade deals through our platform, you can effortlessly increase your upselling revenue even before your guests arrive at your hotel.
When you implement Room Upgrades, you not only enhance your guests' experience but also demonstrate your commitment to providing exceptional service. The seamless and hassle-free process of offering room upgrades contributes to a positive guest perception, boosting customer satisfaction and loyalty.
If you're eager to learn more about maximizing your guest spending and exploring the full potential of DigitalGuest's features, we invite you to Book a Demo with our team. We'll be happy to provide you with further insights and showcase the capabilities of our platform.
Take your hotel to the next level with DigitalGuest's Room Upgrades feature. Automate, entice and elevate your guests' experience, all while increasing your revenue effortlessly. Start offering tempting room upgrades to your guests today!