Best ways of using QR codes
Get the most out of our DigitalGuest platform
What is a QR code?
It's a barcode that has a weblink behind it, this means you can either scan the QR code with your smartphone or you can use it as a hyperlink. You can, for example, place the link in a booking confirmation email. Or use the hyperlink on your website to lead the guests to the guestbook. In general, a QR code is a tool you can use to give your guests easy access to your DigitalGuest platform and other places. The guests just simply open their smartphone's camera and point it to the QR code. Let's dive a bit deeper into how to succeed with using QR codes.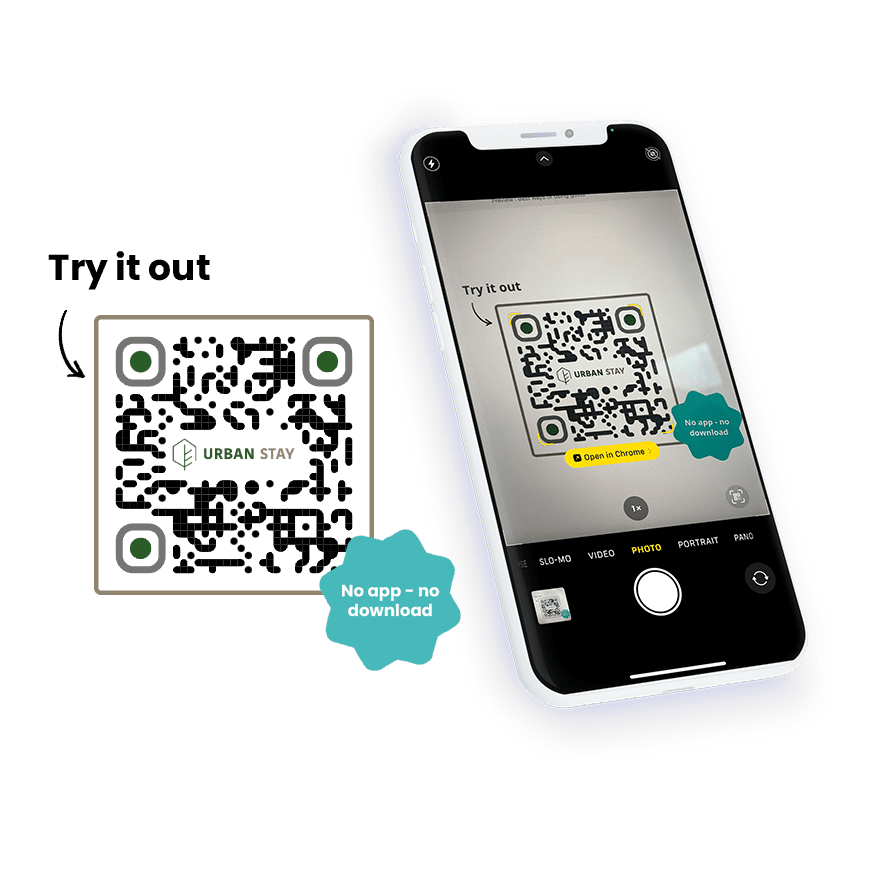 STEP
01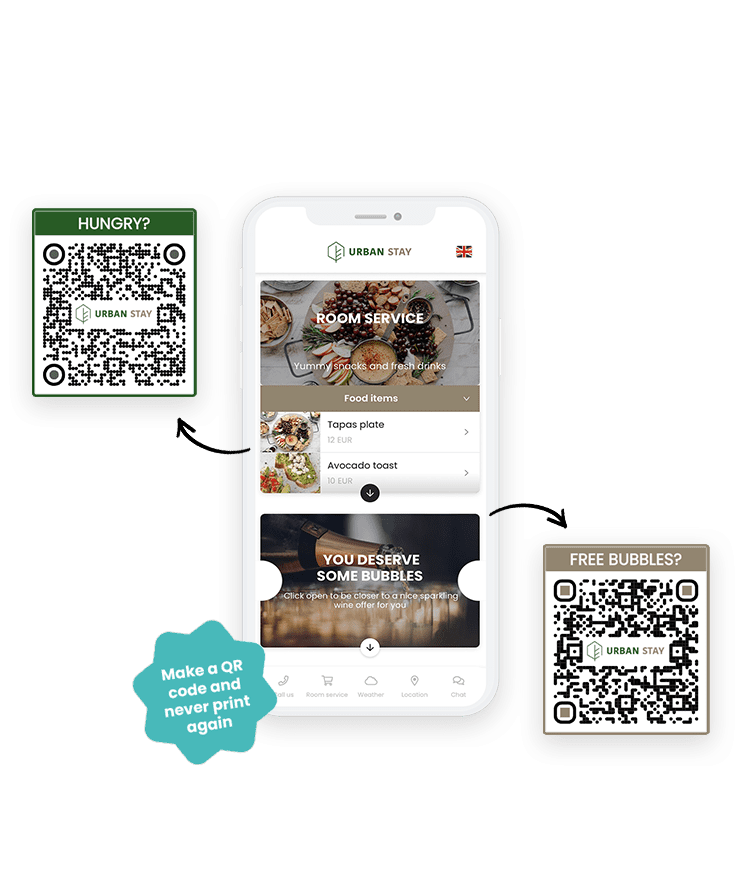 How to use a QR code?
Besides reaching your guests with SMS or email, QR codes are a great solution for guests without contact info.
You can use the QR code to lead your guests to a destination of your choice, here are the options:
The guestbook – All they need to know in one place.
Guestbook box – If a specific box needs some extra attention.
A page – Maybe a menu card or guide to the spa?
You can always edit the content behind without changing the QR code, so if you need to make some changes to the room service menu, you can easily do it (you can easily do that in just one minute). This means you can save a lot of time and money on paper.
Pssst. just remember that a QR code is not personal which means that it's not connected with your PMS system so it doesn't know where on the guest journey the guest is exactly.
STEP
02
Design your QR code
A QR code doesn't have to be boring anymore. You can actually customize your QR codes they fit your brand identity 100%.
Colors – No more boring black and white QR codes.
Text – Be creative and make your guests interested.
Frame – Make the QR code even more visible.
Code Design – Create a softer look with a round code design.
Logo – A finalized personal touch on the QR code.
Make these design decisions and this will for sure make the QR codes stand out wherever you place them at your hotel.
Let's give you an example. If you have your restaurant menu on a page on your platform, your text could be 'Feeling hungry?'.
Or if you want to spoil your guests with a voucher for 2 for 1 drink, the text could be 'Up for a drink or two?'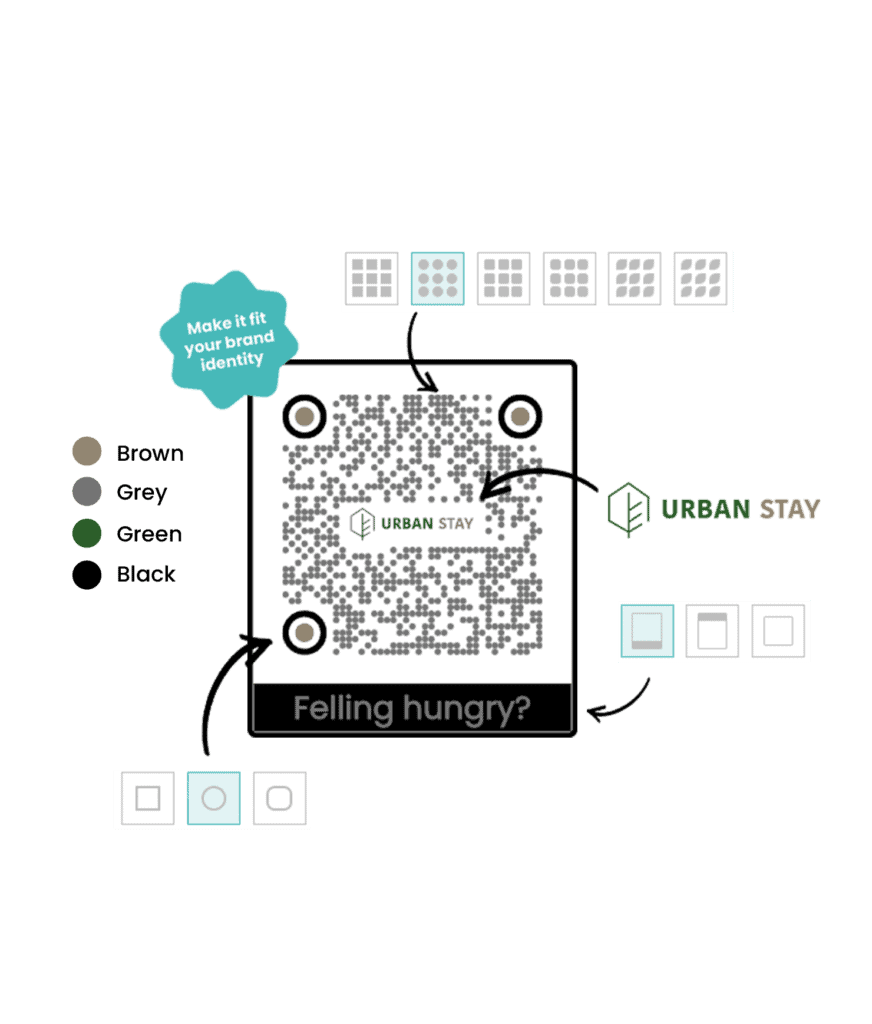 STEP
03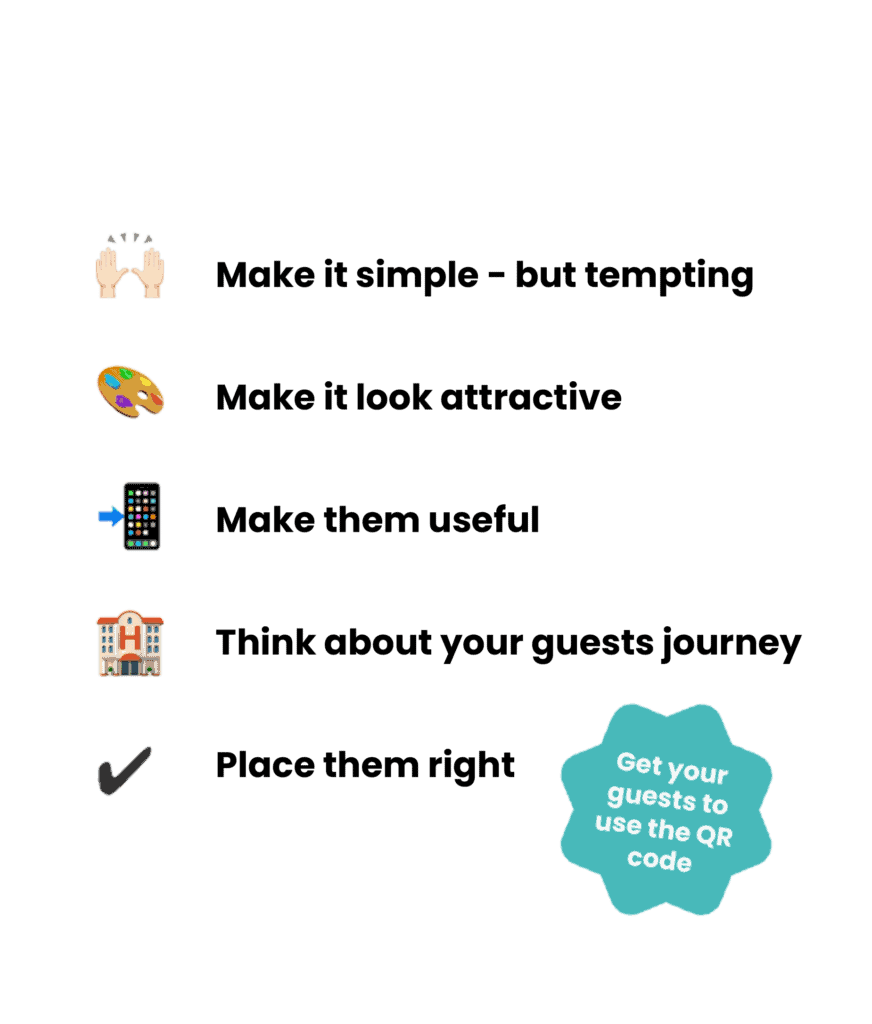 How to get your guests to use it?
So now you have designed a QR code that reflects your brand identity and further created content behind it, which means you already came a long way.
So how do you get your guests to use these beautiful QR codes? We know that by following these 5 tips, you will for sure get a lot of traffic through your QR code.
Think about the guest journey, where do you want to reach your guests with the QR code? And then of course make sure they are visible and easy to use.
Now you just need to place them right – check out the next step to get some inspiration.
STEP
04
Where to place QR codes?
With the right design and content behind the QR code, you are now ready to place them. The options are many, so let's give you some examples.
The reception – Leading to the guestbook with all general information about the stay.
The room – Easy digital access to the box with room service or a guide on how to use the electronics.
The hotel lobby – Leading to the activity calendar or a guide to the city.
The restaurant – Leading to a page with your menu card. This makes it super easy if you need to change a small thing in the menu.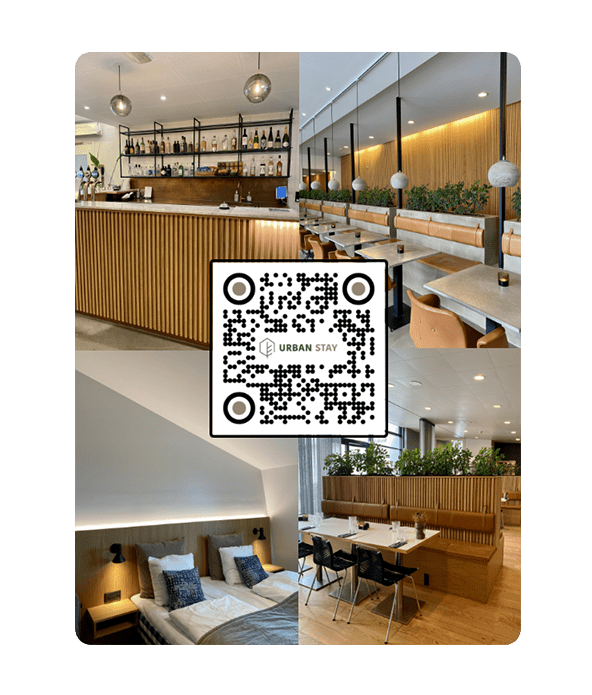 Not feeling creative?
Let's inspire you
You are ready to get started! We know It's not always easy to be creative when you have to, but we got your back. That's why we've collected nice examples from some of our dear customers so that you can get inspired. Check them out.