In the world of hospitality, the process of guest registration has long been associated with endless queues, stacks of paper, and the dreaded Guest Registration Card. Hotels are always on the hunt for ways to make guest stays more enjoyable, and now DigitalGuest has made check-in super easy with its own digital guest registration form.
So, what are these digital registration forms all about? Well, they are a way to personalize, speed up and make a safe check-in experience. So let's dive into what makes digital registration forms special, how they make checking in at hotels faster, and why going contactless with them is a big win for everyone.
What are Guest Registration Forms?
Registration forms play a crucial role in the hospitality industry, serving as essential documents for collecting vital information from guests. Notably, these forms are not merely a matter of convenience; they often hold significance in legal and regulatory contexts.
In many countries, it transcends mere convenience; it transforms into a legal obligation to gather information about overnight guests, including their signatures confirming their stay. This practice is not only a procedural requirement but also serves official purposes, ensuring strict compliance with local regulations.
Traditionally, this data collection process involved printed paper cards known as Guest Registration Cards, a time-consuming method that required guests to fill out these cards by hand. And sometimes staff needs to place this data in their system. The consequence? It led to sluggish check-in processes, seemingly endless queues at the front desk, and the accumulation of filled registration cards – a scenario far from convenient.
How can DigitalGuest help speed up the check-in process?
DigitalGuest has also taken the lead, providing a smart and effective solution to this long-standing challenge. Through the DigitalGuest platform, hotels can now create customized hotel guest registration forms tailored to their specific local regulations and preferences.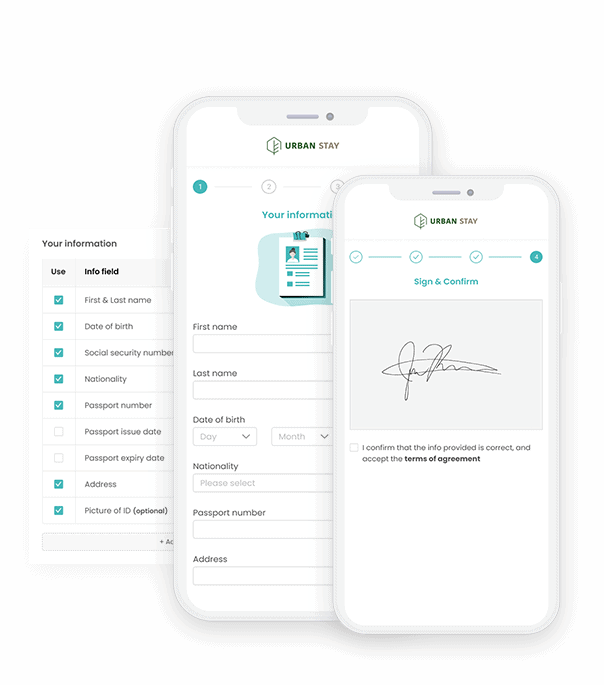 Digital Registration Forms: A Seamless Guest Experience
Imagine this: your guests receive a pre-stay email inviting them to complete their registration form online before their arrival. No more tedious paperwork at the check-in counter. This not only simplifies the process but also enhances the overall guest experience.
Additionally, if you prefer an even more contactless approach, you can distribute the registration form through QR codes strategically placed around your property. Guests can simply scan the code with their smartphones and complete the necessary information from the comfort of their own devices.
Alternatively, some of our valued customers have chosen to place the registration form on their website, encouraging guests to complete it prior to their arrival. Moreover, certain clients have opted for the convenience of having the registration form readily available on a tablet in the reception area. With a variety of choices on where to locate your digital guest registration form, you can cater to your guests' preferences and make their experience as smooth as possible.
Ready to increase guest satisfaction?
The Benefits of Using Digital Registration Forms
So, why should your hotel turn to digital guest registration forms? Here are some compelling reasons:
1. Speedy Check-Ins
With digital registration, the check-in process becomes a breeze. No more long lines and frustrated guests. Everything is prepared in advance, allowing your guests to focus on what truly matters – enjoying their stay.
2. Say Goodbye to Paper Clutter
Bid farewell to the piles of paper forms cluttering your front desk. With digital registration, all guest forms are conveniently sent via email, neatly organized and accessible in one digital location.
3. Cost Efficiency
Going digital means significant cost savings. You'll no longer need to purchase an endless supply of pens and paper for guest registration cards.
4. Contactless Convenience
In a world where contactless transactions are increasingly favoured, digital registration aligns perfectly with the preferences of modern travelers. It enhances safety and reduces physical touchpoints, contributing to a safer and more comfortable guest experience.
How to use DigitalGuest's Registration Forms?
Using DigitalGuest's Registration Forms is easy, and it can significantly streamline your hotel's check-in process. Here's a quick guide on how to make the most of this innovative tool:
Add to Emails & SMS Messages:
Incorporating the registration form into your pre-stay communication is a smart move. When you share the registration form through your pre-stay emails or SMS messages, you'll notice a remarkable level of convenience.
Automated Data Entry:
As an added perk, the guest's first name, last name, arrival date, and departure date are automatically populated into the form. This information is seamlessly pulled from the reservation details stored in your Property Management System (PMS). No more tedious manual data entry for you or your guests!
By including DigitalGuest's Registration Forms in your pre-stay messages, you'll provide guests with a hassle-free way to complete their registration, ensuring a smooth and efficient check-in experience for everyone involved.
Wrapping Up
In a time when convenience, efficiency, and guest satisfaction are of the most importance in the hospitality industry, is the reason why DigitalGuest created an online guest registration form. By streamlining the check-in process and eliminating the burdens of paper-based systems, hotels can offer a seamless and delightful experience to their guests.
So, why stick with the old and inconvenient methods of guest registration when a digital solution is at your fingertips? Start using DigitalGuest, and watch as your guests enjoy effortless arrivals, hassle-free experiences, and memorable stays.
Ready to explore the possibilities? Learn more about DigitalGuest's Digital Registration Forms or visit our website to discover how we're reshaping the hospitality industry. Join us on this exciting journey towards a brighter, more efficient future in guest registration.