We've got great news for you! DigitalGuest and VisBook have launched a 2-way integration, taking automated hotel operations to the next level. That's right, less manual work, an automated upselling process, and better use of resources are just a few of the benefits.
2-way integration with Visbook
We're very thrilled to announce a 2-way integration between DigitalGuest and VisBook PMS. VisBook integrates all parts of your hotel. Such as booking, housekeeping, spa, restaurant, and accounting – into one user-friendly and scalable property management system. DigitalGuest creates amazing digital guest experiences. In a customized web app that enables your hotel to reduce paper, automate communication and increase your revenue. By strengthening the power of these 2 software systems, hotels and accommodations can enhance their guest experience and improve operational efficiency.
And now we've made things even easier for hotels using VisBook and DigitalGuest. From now on, DigitalGuest will not only receive all the booking data from VisBook but also send data back on orders placed in the DigitalGuest platform directly to Visbook! Imagine guests ordering room service on the DigitalGuest platform, and it being automatically added to their room bill, the minute your hotel accepts the order! This is a game-changer!
Ready to be our next amazing client?
Full-on automated Guest Journey and hotel operations
The original DigitalGuest/VisBook integration allows DigitalGuest to borrow all the guest booking data, to personalize and automate the digital guest journey. Both before, during and after stay, you can send out automated and segmented emails and SMS messages based on the guest room type or rate code. Plus, you can offer your guests exclusive deals like room upgrades, parking services, and breakfast packages, both before they arrive and during their stay.
Taking automation to the next level
Upselling deals is key when it comes to increasing average spending per guest. And boosting your revenue coming in, however, it's often combined with a lot of manual work for the hotel. But not anymore. With this new 2-way integration we automate the process of handling and receiving orders coming in through DigitalGuest, whether it's coming from an Upselling email or from the DigitalGuest platform.
This means, when your guests place an order through DigitalGuest, the orders will go directly on the guest's bill, the minute your hotel accepts the order. You can even choose to run 100% autopilot and have all orders automatically accepted – whatever suits your hotel operations best.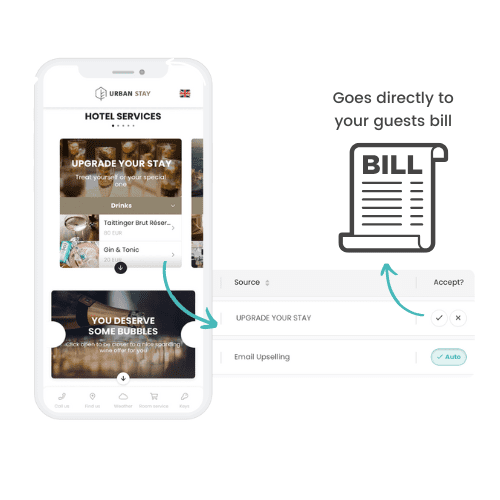 This newly enhanced integration will save you valuable time in your hotel operations. Reduce human errors and increase your revenue, so you can dedicate more time to your guests, creating memorable moments.

Ready to take your guest journey to the next level? Then Book your Demo today 🚀