It's no secret that excellent communication creates a positive overall guest experience which is why we have come up with the best ways to communicate with your guests using the DigitalGuest platform.
Our guest communication flow is completely customizable and includes several ways to reach and communicate with your guests. Most importantly you can set up an automated guest communication flow that saves you essential time. Let's dive into what and when to communicate to ensure a seamless guest experience during the entire guest journey.
Automation flow
Pre-stay
For the best communication, you can send a pre-stay email 2-5 days before the check-in with a text saying 'We look forward to meeting you'. It's important to keep it short and lead them to the digital guestbook, where they can find all the practical information, e.g., parking and opening hours. Also, a pre-stay email is a great way to start upselling your guests, so present them with enticing upgrade offers which will help you increase hotel revenue.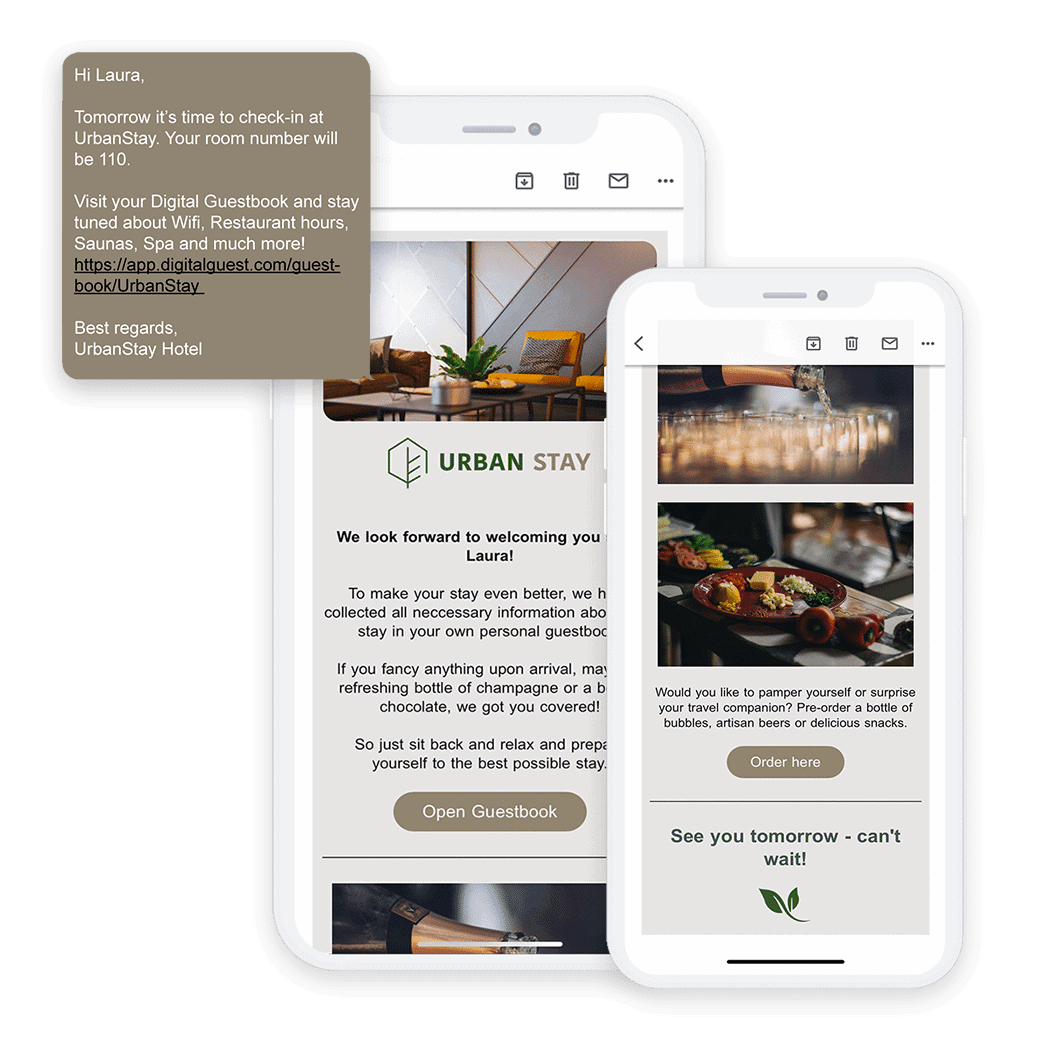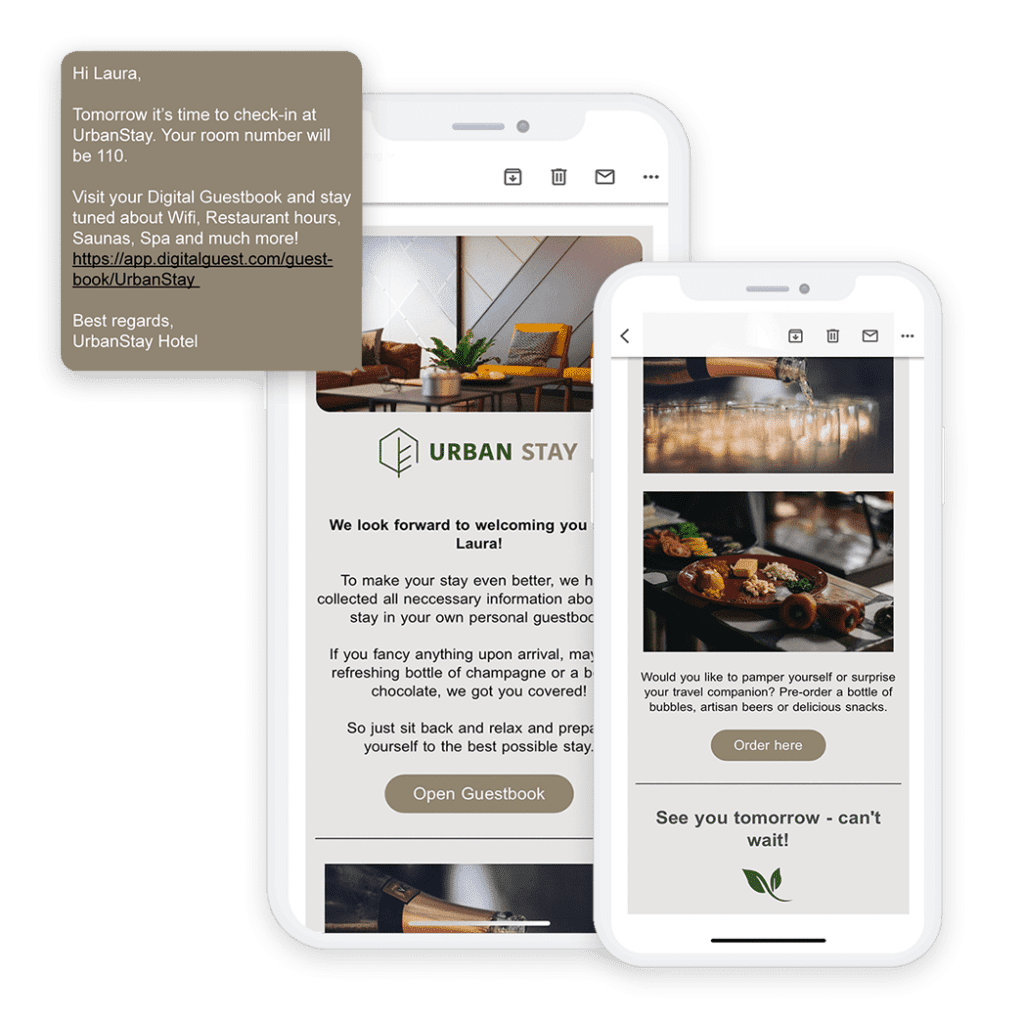 In-stay
When your guest checks into the hotel, you can send an SMS with a link to the digital guestbook. This way you can ensure that the guests have access to the guestbook all the time. To encourage your guests to eat at your hotel restaurant, you can send an SMS with an offer, e.g., book a table in the restaurant, and link to the guestbook where all the information can be found.

If there is something you want to share with your in-house guests, then you can easily do that with scheduled messages. So for example, if there is a busy time for breakfast, you can solve the rush just by sending your guests a short SMS letting them know when there's less traffic at the breakfast. Or do you have a happy hour every Friday evening? Send out a message beforehand so your guests know when to come.
Ready to improve your guest experience?
Post-stay
During post-stay, you can send out either an email or SMS 1-3 days after their stay. In your post-stay email thank your guests for their stay and ask them to leave a review, or encourage guests to book another stay with you.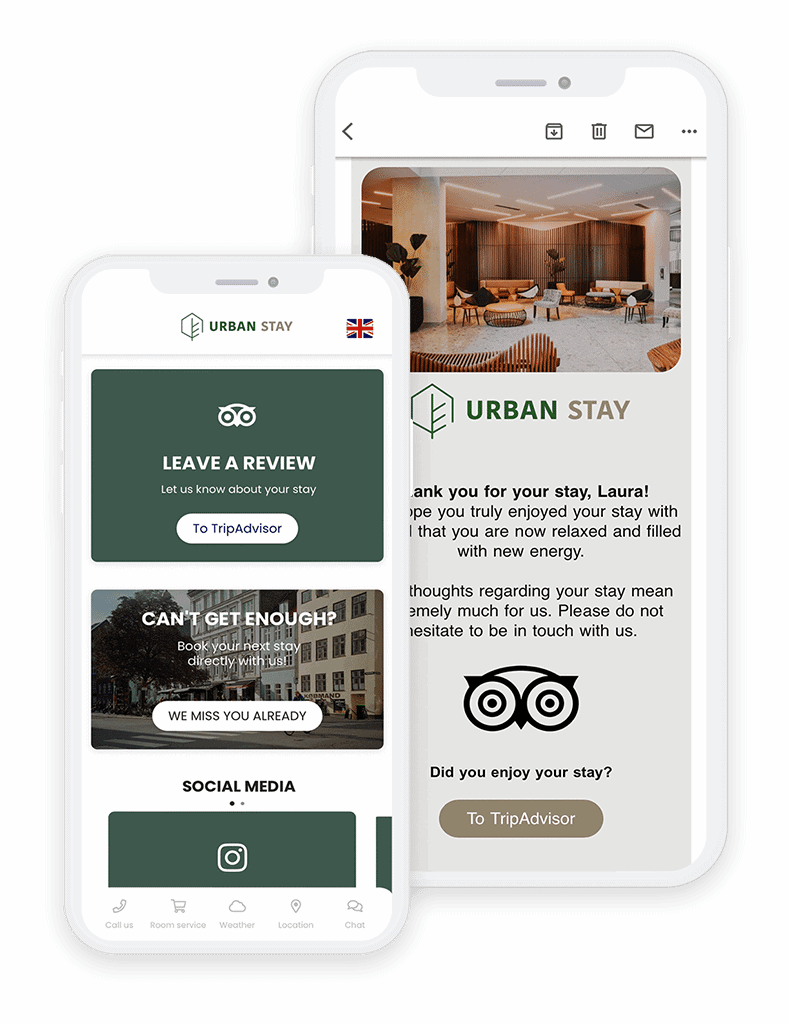 When setting up automation flow, it is important to factor in the different segments. You can set up automation so that a business guest gets a different pre-stay email than a SPA guest. Different purpose of the stay means the guests need different information. This can help to personalize the guest experience much more.
As the DigitalGuest platform is fully integrated into several different PMS, you simply set up the emails and SMSs and choose when you want your guests to receive them – we'll take care of the rest!
Just remember, communication is key! And providing that little bit of extra service is a piece of cake when you can contact your guests with just a few clicks.