Going paperless in hospitality
Do you still have a printed room service menu in each room? The print doesn't belong in the 21st century, so let's look into how DigitalGuest can help you transform print into a digital and paperless solution!
Skærbækcentret
Go digital and save the rainforest! Skærbækcentret in Denmark has done exactly that!
Replacing their old guest directories and other printed material saves 5.4 tons of paper every year! Skærbækcentret consists of just 100 units, imagine how much paper and rainforest we could save if every hotel went digital! Before switching to DigitalGuest each guest directory and flyers regarding the surroundings and activities were printed on paper. And every time some information had to be updated, they would have to print new material and manually distribute it to each room. Now everything is digital, sustainable, and easier for the staff!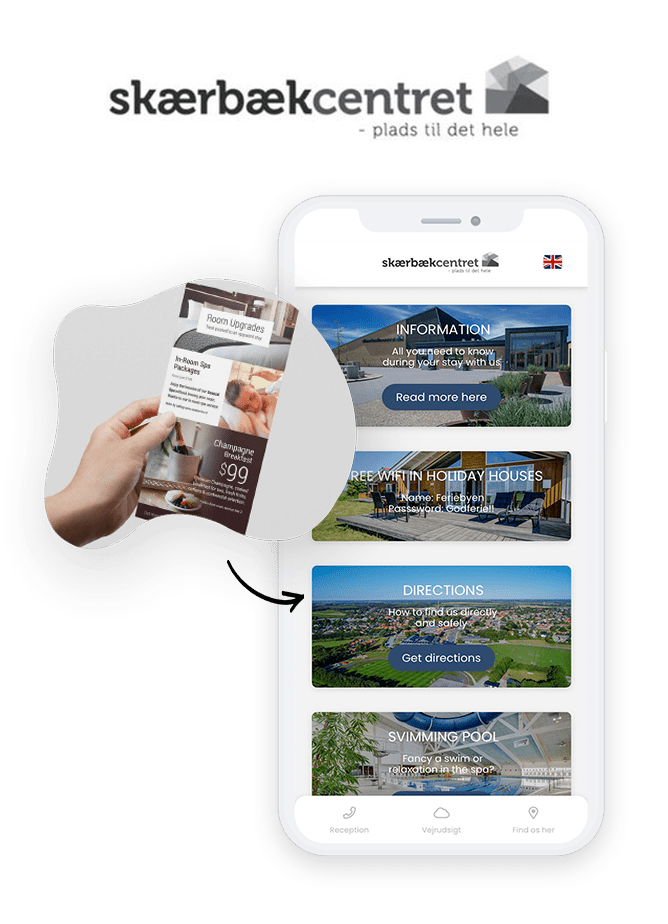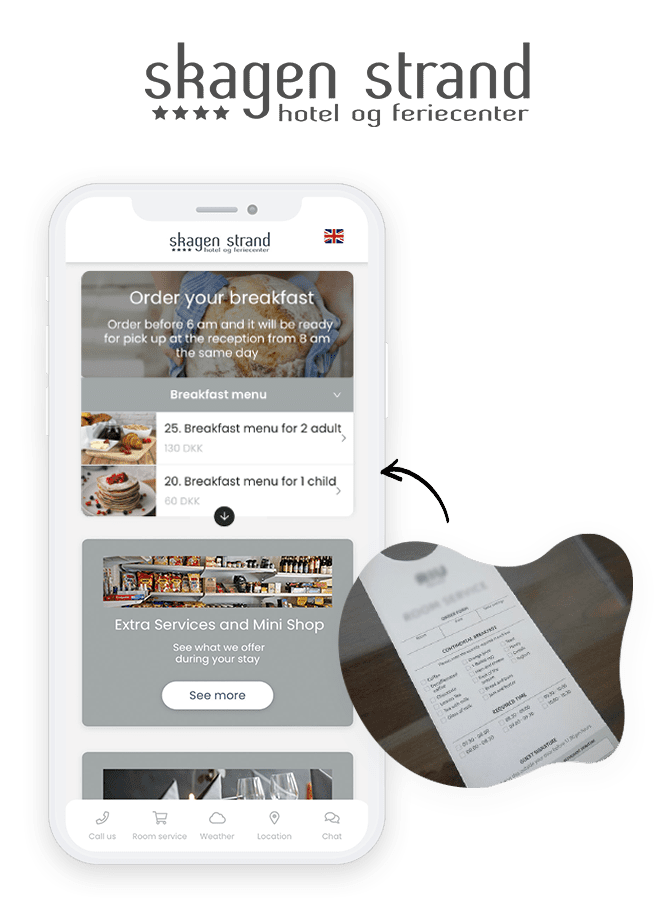 Skagen Strand Feriecenter
A breakfast ordering form transformed from print to a digital solution saves Skagen Strand Feriecenter tons of paper every year, eases the workload, and has also increased the number of breakfast orders!
Before DigitalGuest there was a printed ordering form and a pen laying in each holiday cottage. The guest would then need to fill it out and bring it to the reception. Today the guest scans a QR code, fills out their order digitally, and submits it with just a few clicks. Rainforest saved, happy guests, and increased revenue – what's not to like?
Ready to learn more about us?
Tivoli Hotel Copenhagen
We're living in a new world after Covid-19 and guests expect digital initiatives in your hotel. This is why Tivoli Hotel in Copenhagen has gotten rid of the paper minibar menu and switched to a digital one in their DigitalGuest platform. This way, Tivoli Hotel has an opportunity to change prices and customize the item list with just a few clicks. Easy and Convenient!
As the matter of fact in the last 3 months, the minibar menu box has gotten 7000 clicks and overall is one of the most visited boxes on the platform. Switching from print to a digital solution saves time, and money, and is certainly better for the environment!
accessible through QR codes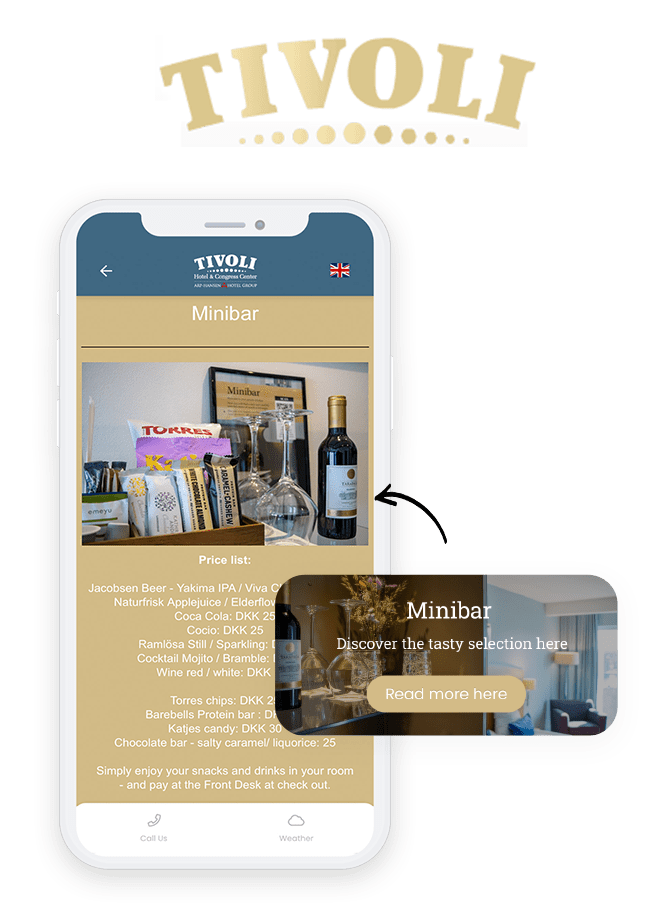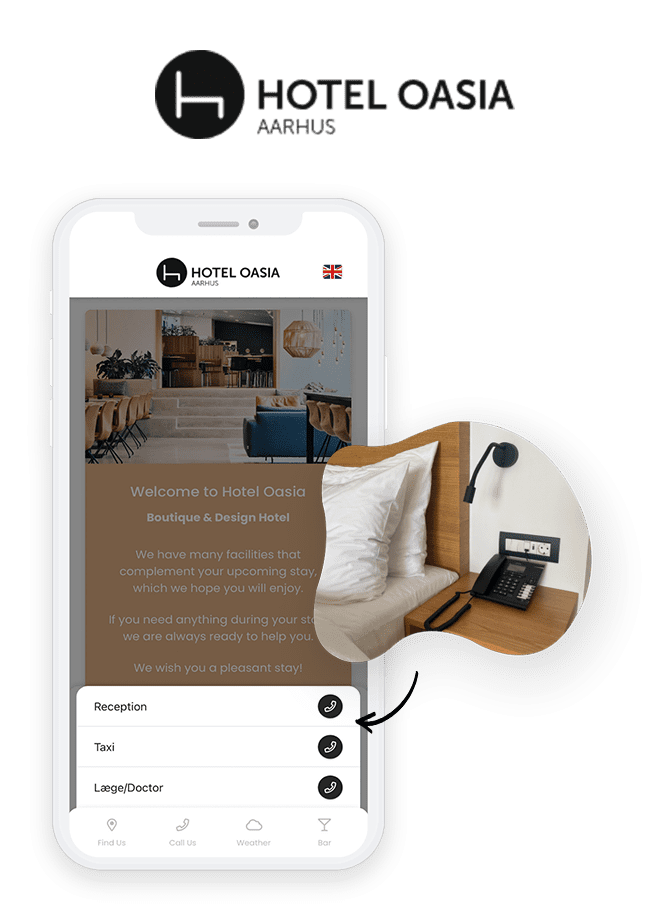 Hotel Oasia
Do you still have an old landline phone by the bed in each hotel room? It's time to change that!
At Hotel Oasia in Aarhus, Denmark they've replaced the in-room phone and list of phone numbers with a QR code linking to their DigitalGuest platform. On that platform, guests have easy access to all relevant phone numbers and can call directly from their own phones. With just one click, guests can call reception, order a taxi or get in touch with a doctor/ambulance in case of an emergency.
Going paperless in hospitality
Are you curious?
Get ready to become the amazing new client of DigitalGuest.