What is upselling and why is it important to you?
By definition, Upselling is the process of selling a customer more expensive items and generating extra revenue through upgrades, extras, or add-ons. And what this means for you, is that you can make better use of your hotel's amenities and products and sell them in a new way that can generate additional revenue.

You might wonder what is the main goal of upselling and the answer is simple – increase guest satisfaction. When you can leave your guests satisfied, there will be positive reviews, you will build stronger relationships and more revenue will naturally follow. Upselling guests the right way is a very easy and effective way how to increase your revenue. A great example of upselling is from our customer Mountain Lodge, Stöten who managed to cash in more than 50.000EUR from takeaway offered on their DigitalGuest platform in just 5 months. And you can do it too!
Do more with what you already have!
Let's go through some of the best ways how to boost sales with upselling at your property during the whole guest journey. Ready?
1) Pre-arrival Messaging
Most guests feel overwhelmed with upselling decisions during check-in at the front desk. Instead, you can easily connect with guests before they step foot on the property by sending out pre-arrival emails with suggestions and recommendations. This way guests have time to go through and understand all the possibilities the property is offering.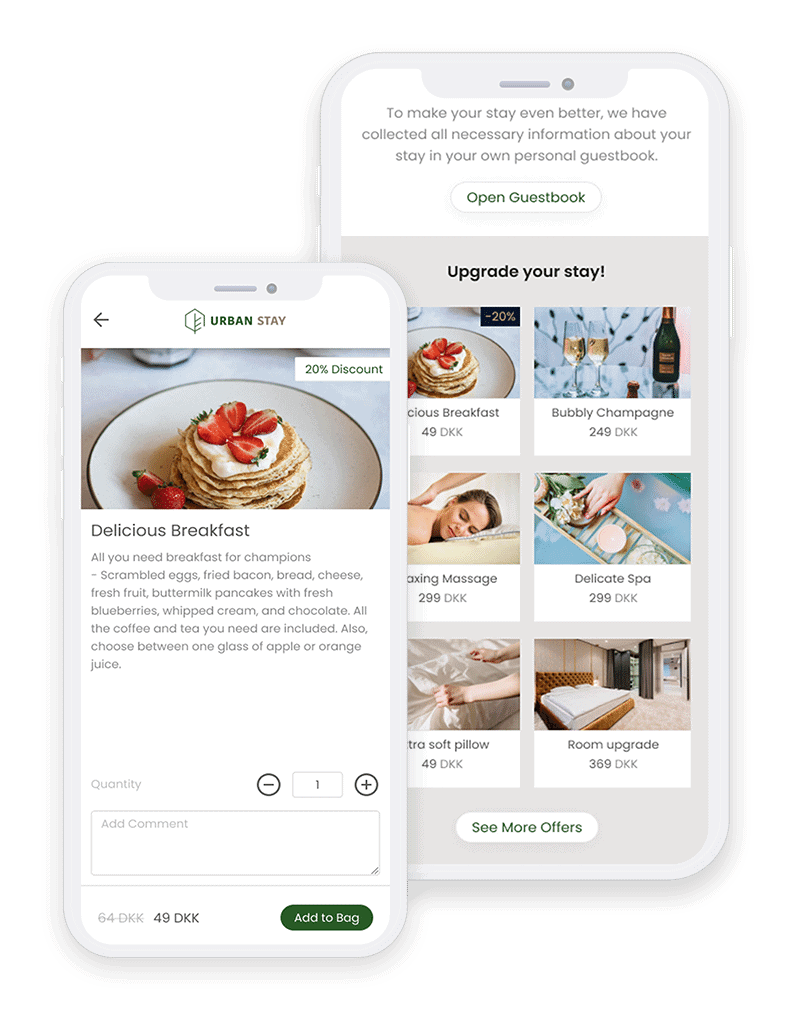 2) Inform Guests About the Property's Amenities
Following further the above suggestion, the more guests know about your hotel, the higher the chance there is to upsell. When guests are familiar with all the amenities, they might see something they didn't know they could get. Some of the examples could be:
Early check-in and bag storage
Room upgrades
Parking
Airport pick-up, shuttle, taxi, etc.
Bottle of wine before arrival
Guided tours
Are you ready to boost sales and generate revenue?
3) Provide digital room service
Let's be honest, in-room dining is easy and convenient both for the staff and guests. Digital menus and mobile ordering let your guests look at the menu during their own time without feeling rushed to place their order to a busy staff member on the phone. Not only a digital room service provides a more efficient, streamlined in-room dining process for the guest, but it also improves the guests' overall experience at the property. Win-win situation!
4) Drive Late Check-Out and Extended Stays
Not only you can upsell before and during the stay, but also on the day of check-out. You can automatically send an email offering your guests late check-out or ask if they would like to stay an extra night.
5) Help Guests Book Their Next Stay
You can even upsell when your guests after they have left your property! After check-out, you can send post-stay emails thanking them for visiting and at the same time also promote return offers. Inviting your guests to book directly with special offers or discounts helps strengthen the guest relationship, and allows upselling your guests in the future.

If you want to learn more about boosting sales and increasing your revenue, then Book a Demo and see what we can do together! 🚀